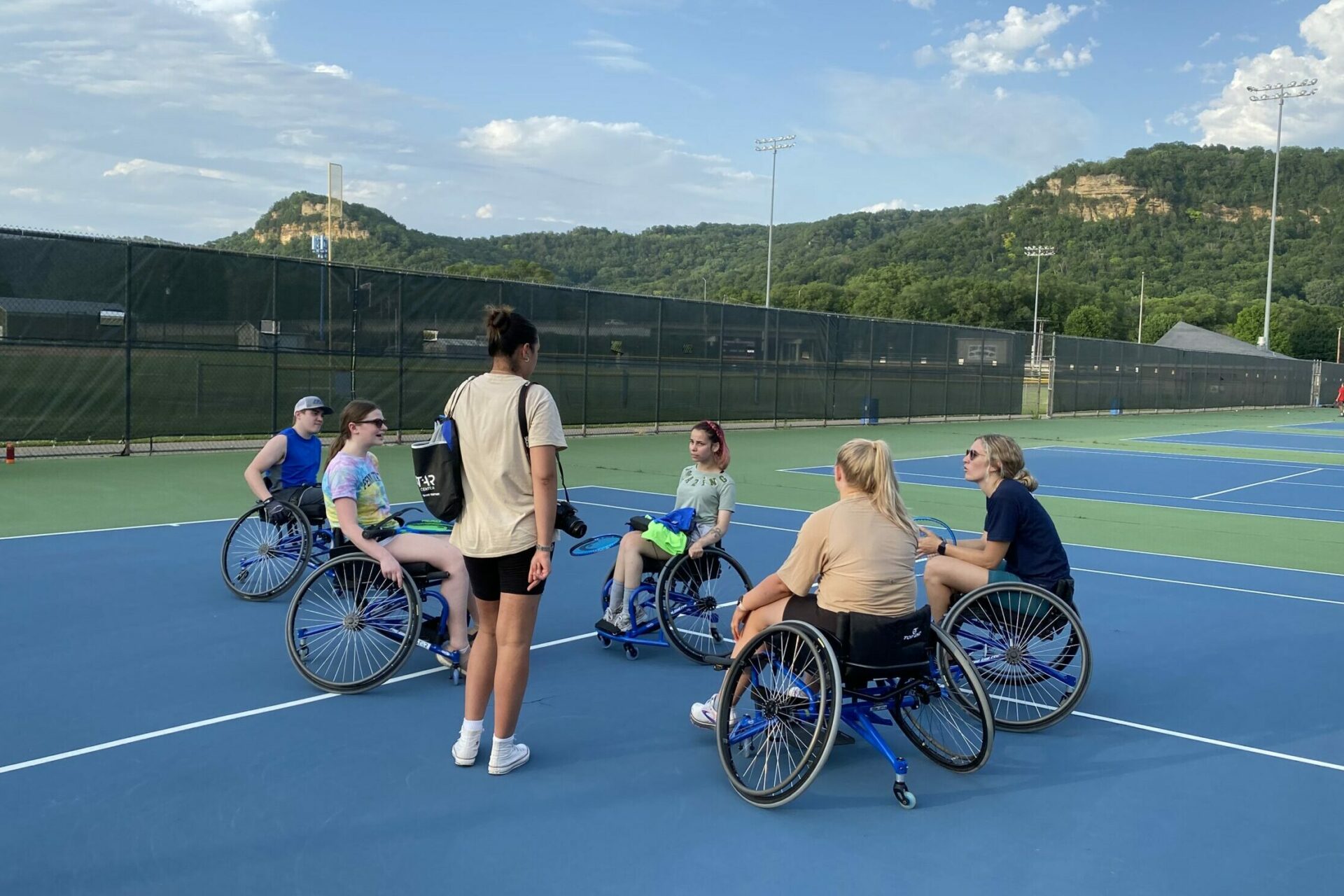 Wheelchair Tennis
Wheelchair Tennis will be back in the Spring of 2023.
Learn the sport of wheelchair tennis. This para sport is truly inclusive and will allow you to play against your friends and family with and without disabilities. You can play mixed doubles with a seated and standing player.
Who can participate in wheelchair tennis?
Anyone, youth and adult, who has a mobility challenge. This program is co-ed.
Spina bifida
Spinal cord injury
Cerebral palsy
Congenital limb issues
Amputations
Leg length discrepancy
Short stature
Muscular dystrophy
Parkinson's disease
Multiple sclerosis
Motor dyspraxia
Limited range of motion
Balance issues
Post stroke
Blind and visual impairment
Individuals may ambulate independently or use assistive devices or wheelchairs.
How do I play wheelchair tennis?
The rules for wheelchair tennis are easy to remember. The only difference between wheelchair tennis and stand-up tennis is that a wheelchair may allow the ball to bounce two times if desired.
Did you know?
Iowa, Wisconsin, and Minnesota students are able to represent their school on the tennis team. With the skills you learn you may also enjoy community recreational tournaments against other wheelchair users or standing players.
Participants can compete in local, regional, and National Wheelchair Tennis Competitions thru USA Tennis. STAR Center will be hosting two tournaments in the summer of 2022.
Do I have to be a full time wheelchair user to play?
No. You do not need to be a full time user of a wheelchair. You can play wheelchair tennis if you have mobility issues that prevent you from playing stand up tennis.
I use a power chair. Can I play wheelchair tennis?
Yes. You can play from your power chair!
I have difficulty with my grip strength, can I play?
Yes. We can use a lighter weight racket and give modifications to secure your grip.