The STAR Center Story
Not long ago, La Crosse community members asked the question, how can we provide the opportunity for everyone to lead the healthiest and most fulfilling life possible? Joining with educators, aging and disability advocates, health professionals, social organizations and support organizations, we defined the vision of health equity. This vision will close the gap of fitness and activity opportunity for all community members.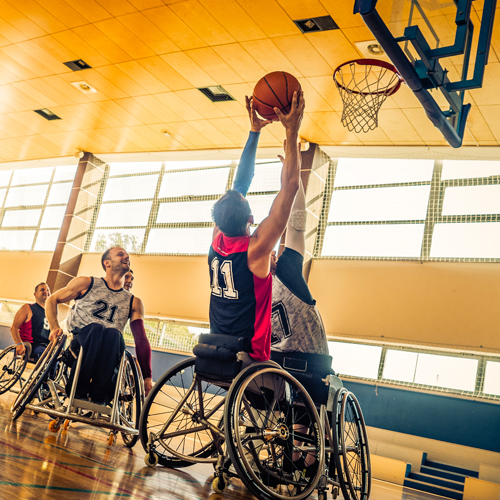 Sign up for our newsletter
"*" indicates required fields
Who we serve
We serve people with disabilities, chronic conditions or those recovering from strokes or accidents. The STAR Center offers an array of all-inclusive programs, allowing all community members to benefit through participation. Every individual has the opportunity to choose what type of programming—community-based assistive exercise, adaptive programming or inclusion programming—best suits their needs.
Currently, STAR Center programs are held at various venues throughout the La Crosse area. In the future, the STAR Center will become a one-of-a-kind, universal-access, adaptive fitness center open to all.
Youth
STAR Center fitness programs and activities offer young people fun opportunities to reach their full potential and live their healthiest lives. Our adaptive physical education introduces youth to new activities that may become life-long passions. Here, youth can stay active, try new things, make new friends and just have fun.
Adults and seniors
Staying healthy at every stage of life can be challenging. At the STAR Center, all adults and senior citizens can find programs and activities that satisfy their needs and preferences. Plus, expert assistance in every program ensures maximum benefit and enjoyment!
Veterans
The STAR Center offers rewarding, therapeutic activities for veterans of all ages and abilities—Wounded Warriors, War fighters and veterans experiencing PTSD, social isolation and other conditions. We're honored to help veterans support their overall wellbeing with veterans fitness programs, wheelchair sports, adaptive sports and more.
Explore Star Center Programs
"I know firsthand how difficult it is to maintain quality of life in a wheelchair. I believe the STAR Center will become a template for other communities."
1 out of 5 people are excluded from physical activity that is essential for maintaining health
— Robert Wood Johnson Foundation
Contact us today
We're here to answer your questions about:
Participating in our programs
Sponsoring our programs
Volunteering
Contributing to our future facility
Much more
Submit this form and we'll be in touch right away!
Star Center Sponsors
Thanks to these generous businesses and organizations for their support.
Business partners
Star Center Affiliations
These groundbreaking organizations partner with us to help individuals thrive–thank you!