The Dairyland Games is Wisconsin's first and only multi-sport competition for individuals with physical disabilities that is sanctioned by the national leader in adaptive sports- Move United. The Dairyland Games were started by Dairyland Sports, a non-profit organization promoting and advocating for adaptive sports in Wisconsin and working to make sports available to all adaptive athletes in the Midwest. Dairyland Games is Wisconsin's premiere event allowing athletes with physical disabilities to qualify for Move United Junior Nationals, the largest, long-standing annual multi-sport event in the United States for youth with a physical, visual, and/or intellectual impairment who are classifiable under the International Paralympic Committee's classification system. Events of the Dairyland Games include swimming, track & field, and powerlifting. The first Dairyland Games in 2016 only saw 16 athletes whereas in 2019 the games saw over 75 athletes with representation from 8 different states across the midwest. The games are growing and the excitement is real for the future games! 
Dairyland Sports, founded in 2017, has a mission to engage and empower individuals of all ages, abilities, and experiences to improve their health and well-being through participation in sport, fitness & recreation. They work locally, nationally, and internationally to promote and support adaptive athletes in their individual and athletic pursuits. They hold events and provide opportunities to learn, train and compete.
On Sunday, May 8th STAR Center's own athlete, Araina Roderick competed in the track and field portion of the Dairyland Games. The Dairyland Games were held at Verona High School. Araina stated she "loved meeting new friends and seeing many friends that she met at the state track meet last year," and "setting goals for herself when racing and doing the shot put, and when she can beat her previous record." Additionally, her mom Shannon stated to Araina, "It's not about beating others, in her mind, it's about having fun and improving herself." This amazing event allows athletes like Ariana to grow in their skills and abilities and create a great community!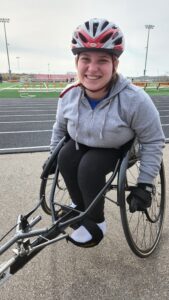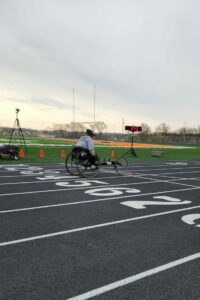 .
Great job, Araina!