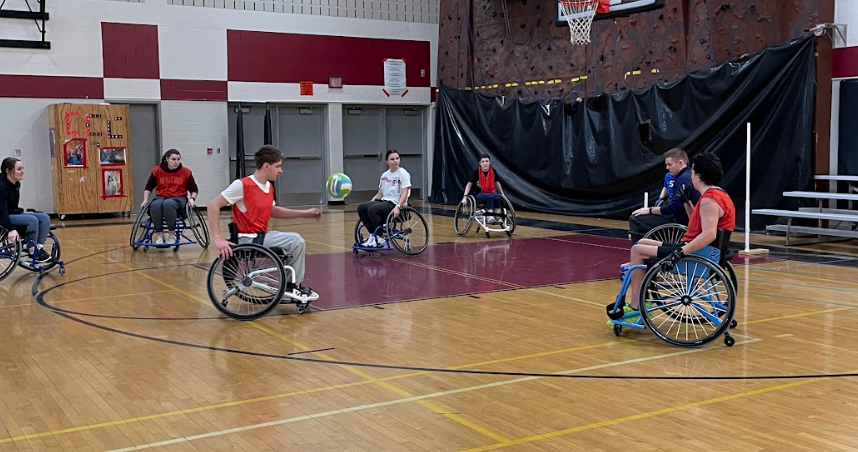 Wheelchair Team Handball
Our wheelchair team handball program allows you to play and be active with your friends and family. Everyone can get in on the game. Let's get moving together!
Who can participate in wheelchair team handball?
Anyone, youth and adult, who has a mobility challenge. This program is co-ed.
Spina bifida
Spinal cord injury
Cerebral palsy
Congenital limb issues
Amputations
Leg length discrepancy
Short stature
Muscular dystrophy
Parkinson's disease
Multiple sclerosis
Motor dyspraxia
Limited range of motion
Balance issues
Post stroke
Blind and visual impairment
How do I play wheelchair team handball?
Wheelchair team handball (also called wheelchair soccer) is a cross between wheelchair basketball and soccer. It can be played with both manual or power chairs. The game uses a volleyball that is dribbled, passed, and thrown through a goal. The rules of the game require frequent passing. There are 6 members on a team. It is a great cross training activity for wheelchair basketball and utilizes many of the same chair and ball skills. Usually, wheelchair team handball is played on a basketball court. In the summer, STAR Center plays outdoor on the tennis courts. You will learn to set pick and rolls, set screens, and make cuts to the goal awaiting a pass from a teammate to shoot and make a goal!  There is plenty of challenge and fun in this game.
Did you know?
Wheelchair team handball is not yet a Paralympics sport. The next opportunity for handball to be included will be in 2028 at the Paralympics Games in Las Angles, California.