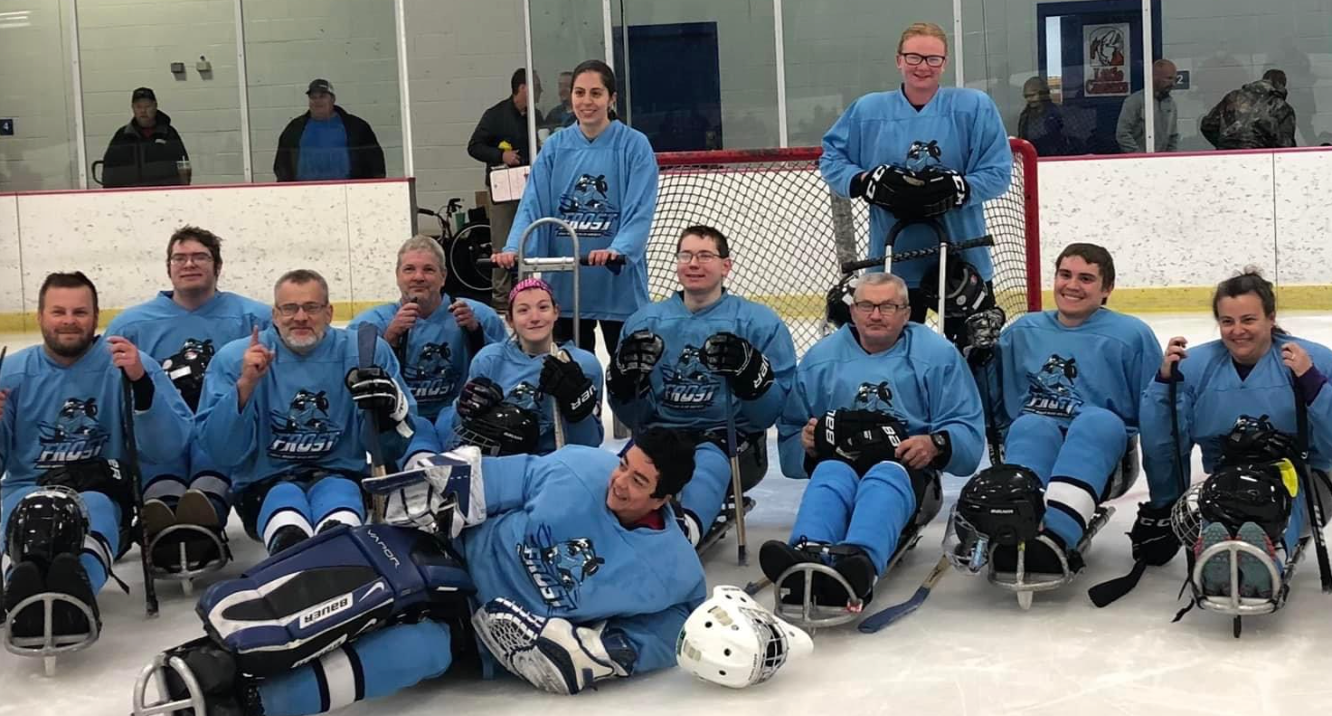 Sled Hockey
Coulee Region "Frost" Sled Hockey was started in 2016. A group of 14 players started the first adaptive team sport for individuals with physical disabilities in the Coulee Region. They were the impetus for the development of the Sports, Therapeutic, and Adaptive Recreation (STAR) Association.
We welcome new players any time of year. Not sure if sled hockey is for you? Come try it with a free day on the ice. Please contact crs[email protected] to set up your "day on the ice."
When will sled hockey be offered?
Sled hockey will be offered annually beginning in October and running through March.
Who can participate in sled hockey?
Anyone, youth and adult, who has a mobility challenge. This program is co-ed.
Spina bifida
Spinal cord injury
Cerebral palsy
Congenital limb issues
Amputations
Leg length discrepancy
Short stature
Muscular dystrophy
Parkinson's disease
Multiple sclerosis
Motor dyspraxia
Limited range of motion
Balance issues
Post stroke
Blind or visual impairment
Individuals may ambulate independently or use assistive devices or wheelchairs.
Sled hockey is the Paralympic sport of hockey. Players with physical disabilities play seated in sleds. They have two modified sticks. One end of the stick has "picks" which are used to propel the players along the ice. The other end has blade similar to a traditional hockey stick. The game is played with the same rules as stand up hockey. Except for a few rules regarding striking another sled in a "T-bone" manner. It is fast and exciting to play and watch.
Players without disabilities can join in the fun in recreational youth play, but adult teams can only have up to three players without disabilities. Parents and children can practice together; siblings and friends are also welcome to practice with us.
Coulee Region "Frost"
Coulee Region "Frost" Sled Hockey is a member of  USA Hockey. All players must be registered with USA Hockey. First year players can play for free.
There is no fee from the STAR Association; however, ice time is a significant expense. We ask that all players and families participate in our fundraisers.
The STAR Center makes it easy to try a new sport. We supply all protective equipment, sleds, sticks, and great coaches. Enjoy a great workout, friends, and tons of fun. Come join our Sled Hockey family.
Do I need to know how to play hockey?
No. We will teach you everything you need to know.
Do I need to be a wheelchair user?
No. You just need to have a physical disability that prevents you from being able to play stand-up hockey.
I don't have the strength in my arms to push the sled, can I play?
Yes. Those who have limitations of arm strength can enjoy the game while being pushed by a 1-1 mentor. You still pass, shoot, and score with your team.
Do I have to have my own equipment?
No. STAR supplies all protective equipment, sleds, sticks, and coaching.
Tournaments
Frost usually plays one tournament a month. Tournament play is optional, but you won't want to miss out on the fun!
Preliminary Schedule:
October: Wisconsin Disabled Hockey Festival- Madison, WI
November: Double Header
December: "Frost"Holiday Invitational- La Crosse, WI
January: Paul Naztke Memorial Tournament- Wisconsin Dells, WI
February: Hendrickson Invitational- Blaine, MN
March: Hope Invitational- Fargo, ND
April: National Sled Hockey Festival when in Central Region