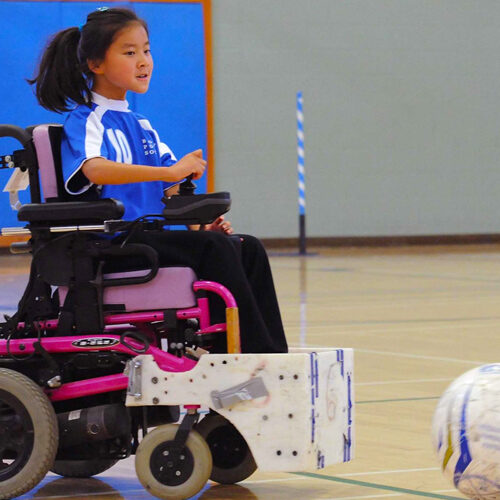 Power Soccer
Power soccer is the only team sport designed just for power chair users. The game requires skilled power chair maneuvering and strategic teamwork as you "dribble", pass, and shoot the ball into your competitors goal.
When will STAR offer power soccer?
STAR hopes to offer power soccer again in the future. Please reach out if you are interested in participating.
Who can participate in power soccer?
Anyone, youth and adult, who has a mobility challenge and uses a power chair or motorized scooter. This program is co-ed.
Spina bifida
Spinal cord injury
Cerebral palsy
Congenital limb issues
Amputations
Leg length discrepancy
Short stature
Muscular dystrophy
Parkinson's disease
Multiple sclerosis
Motor dyspraxia
Limited range of motion
Balance issues
Post stroke
The basics of power soccer
A power soccer team is comprised of 4 players. Usually Power soccer is played on a basketball court, but we will be playing outdoors enjoying the summer weather. You will learn to set pick and rolls, set screens, and make cuts to the goal awaiting a pass from a teammate to shoot and score. From powerful wheelhouse corner kicks, to the fine chair control needed to pass the ball, there is plenty of challenge and fun in this game.
Do I need a special chair?
At the recreational level, "foot guards" are attached to the front of your personal power chair and are removed between practices. Whether you drive your chair with a joy stick, or if you use a head control, you can play power soccer. Elite and high competitive players use specially designed power chairs to play the game. They have a lower center of gravity and have quicker speeds. To keep the play "fair", the speed of the chairs is standardized before competition. Individuals who use a motorized scooter are also welcome to participate in this program.
Foot guard fitting
Once you have registered, we will make arrangements to meet with you before the start of the summer session to get you foot guard adjusted and fitted to your chair. Each player will be assigned a foot guard customized to fit their chair, so you can get out on the court with ease.