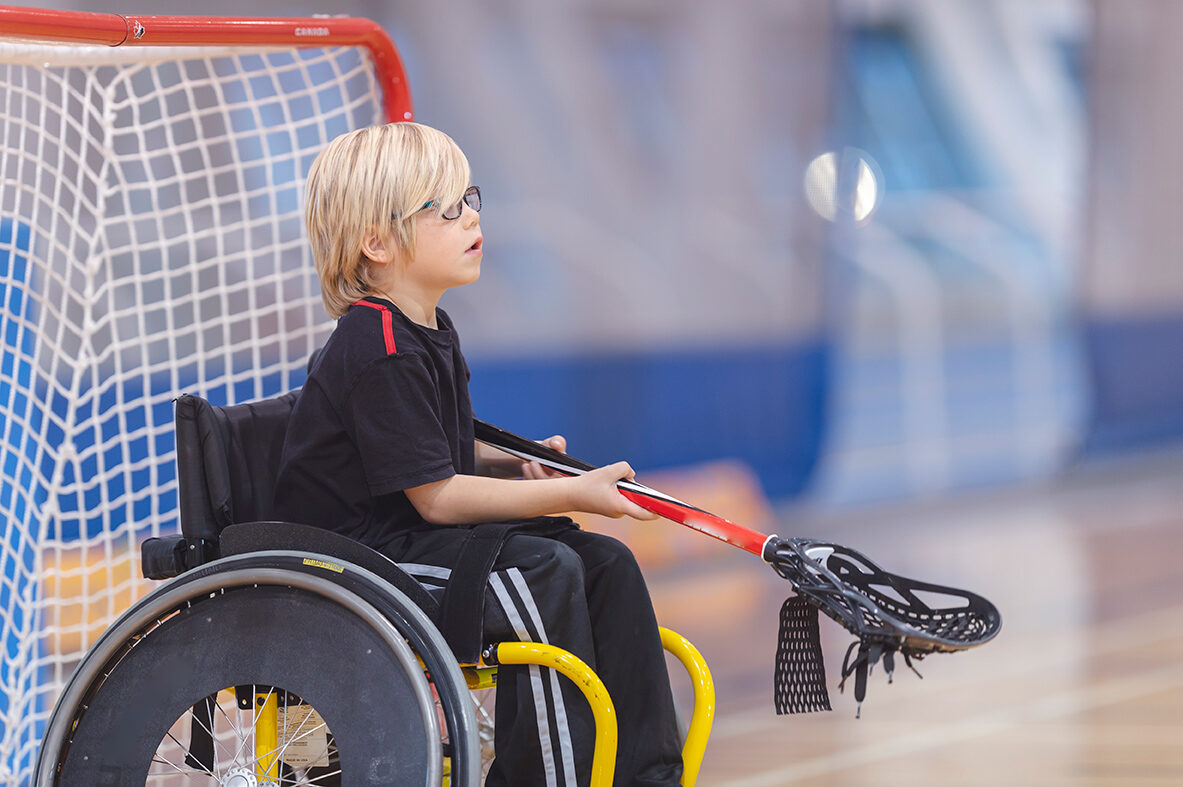 Wheelchair Lacrosse
STAR Center is excited to begin offering wheelchair lacrosse in the spring of 2023. Wheelchair lacrosse is unique in that it offers the speed of basketball, the skill of hockey, and the toughness of rugby.
Who can participate in wheelchair lacrosse?
Anyone, youth and adult, who has a mobility challenge. This program is co-ed.
Spina bifida
Spinal cord injury
Cerebral palsy
Congenital limb issues
Amputations
Leg length discrepancy
Short stature
Muscular dystrophy
Parkinson's disease
Multiple sclerosis
Motor dyspraxia
Limited range of motion
Balance issues
Post stroke
Blind and visual impairment
Scholarships are available. No one will be denied participation due to financial concerns.
Veterans with a disability are able to participate in STAR programs for free.
Dates, times, locations and fees
Wheelchair Lacrosse will run in the spring of 2023. Check back soon for more information!
When: TBD
Where: TBD
Session fee: $30
How do I play wheelchair lacrosse?
Wheelchair lacrosse is traditionally played on a roller hockey rink or hard surface box lacrosse rink. Teams play 8v8, including goalies. Similar to sled hockey, players in wheelchair lacrosse can change positions on the fly. Wheelchair Lacrosse USA uses rules, game mechanics, and penalties that are almost identical to the game of field or box lacrosse. This makes it easy for new players, coaches, and officials to learn. Body checking is allowed as long as contact is made in front of the axle.
Did you know?
The city of La Crosse was named when the French explorers and traders traveled the Mississippi River. Upon arrival, the French saw the Native Americans, who inhabited the land, playing a ball game with a long handed racquet that resembled a bishop's crozier. The sport of lacrosse is based on a sacred Native American game that has been played for centuries.
What to bring:
Dress to move
Water bottle
Bike gloves (if you have them)
Lacrosse stick (if you have one)
Helmet (if you have one)
Sport wheelchair (if you have one)
A parent or care partner is welcome to attend.
The STAR Center provides all equipment necessary for each program.
COVID-19 disclaimer
The STAR Association follows CDC, State and County Health Department recommendations for COVID Mitigation. We recommend that all who are eligible to get a vaccine to do so. Masks, social distancing and proper hand washing will be required at all STAR programs.
Questions? [email protected] or 608-797-6295
In case of inclement weather, the STAR Association reserves the right to cancel a session. Participants will be notified via Playbook.