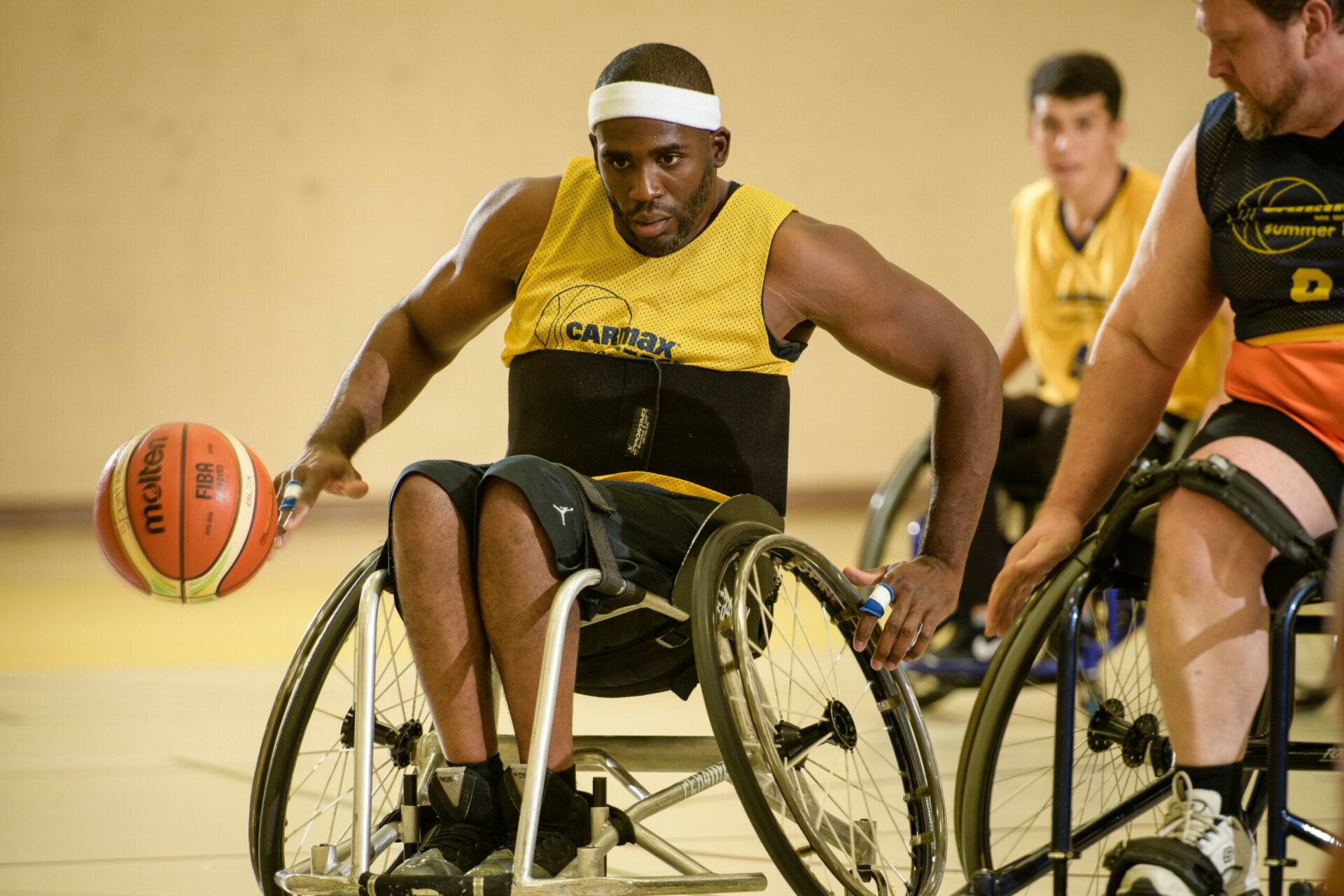 Wheelchair Baskteball
Learn the sport of Wheelchair Basketball, the "Grand Daddy" of all para sports.  Wheelchair basketball is a fast paced game which requires quick changes in speed and direction. You must learn to work with your teammates as you dribble, pass, and shoot the ball.
Who can participate in wheelchair basketball?
Anyone, youth and adult, who has a mobility challenge. This program is co-ed.
Spina bifida
Spinal cord injury
Cerebral palsy
Congenital limb issues
Amputations
Leg length discrepancy
Short stature
Muscular dystrophy
Parkinson's disease
Multiple sclerosis
Motor dyspraxia
Limited range of motion
Balance issues
Post stroke
Blind or visual impairment
Individuals may ambulate independently or use assistive devices or wheelchairs.
Winter 1 Wheelchair Basketball Program
= Recurring event
Starts on:
Sun
,
November
06
@
2:30 pm – 4:00 pm
Avoid the snow and get moving with us this winter! STAR will be running the fast paced and competitive wheelchair basketball program for another season.
See all recurring events
The basics of wheelchair basketball
The rules for wheelchair basketball are very similar to standup basketball, with the same point structure. The court is the same size, and the hoop is 10 feet high. During play, the ball is allowed to rest in the lap or be carried for two pushes; then, the ball must be dribbled or the player will be called for a traveling violation.
Classifications
Para sports use classification to identify what limitations of function an athlete has, and how it effects their ability to play the game. This assure athletes are playing against opponents with similar abilities.
In wheelchair basketball players are classified on a point system from 1 to 4.5.  The lower the number the greater the physical challenge. A team consists of 5 players, the classification numbers must be 14 or less on the court at any one time. Learn more!
Did you know?
Wheelchair basketball was developed after World War II, when US veterans who were injured in the war wanted to continue to play a sport that they loved. The sport spread throughout the world. Wheelchair basketball was introduced for men at the Paralympics in 1960; women started playing at the Paralympics in 1968. Team USA has won the gold medal nine times and are the defending champions.
The STAR Center makes it easy to try a new sport. We supply all the necessary components for each of our programs to be successful including, sport wheelchairs, balls, safety gear, and expert coaches. Come give it a try! Learn a sport for your lifetime.