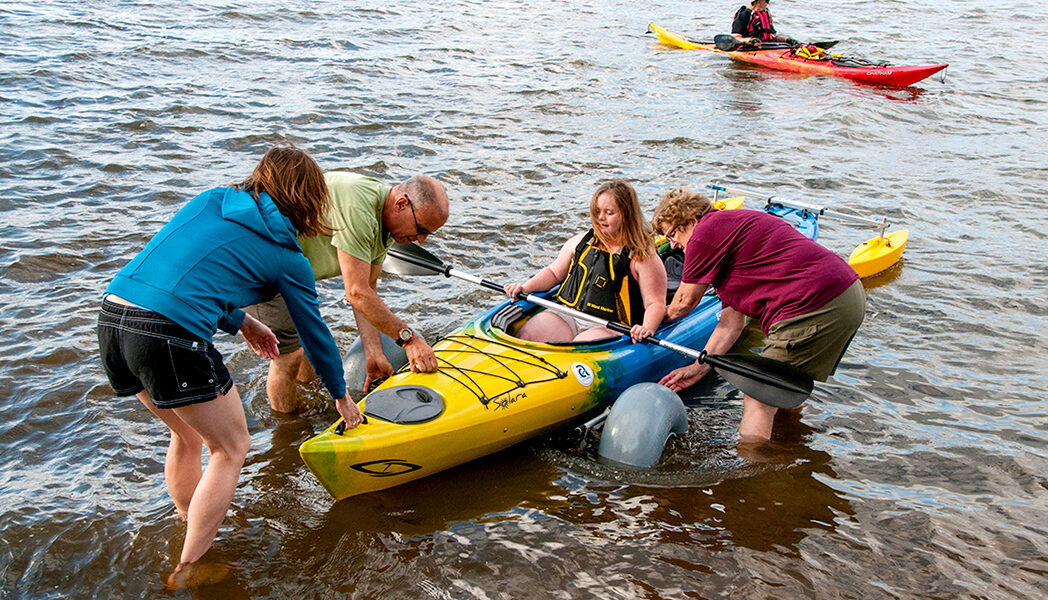 Adaptive & Para Kayaking (n.a.s.a.)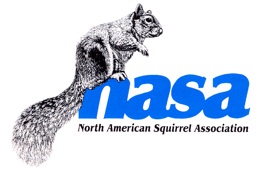 Adaptive Kayaking is a program of the North American Squirrel Association (n.a.s.a.).
Through their generous support, individuals with physical challenges, cognitive impairment, blind and visually impaired, elderly, and Veterans are able to participate for FREE.
When will adaptive and para kayaking be offered at STAR?
STAR Center runs a kayaking program, in conjunction with n.a.s.a., during the summer session(s). Group rentals are available- please contact us for more information.
Who can participate in adaptive and para kayaking?
Anyone, youth and adult, who has a mobility challenge or cognitive impairment that makes participating in traditional programming difficult. This program is co-ed.
Spina bifida
Spinal cord injury
Cerebral palsy
Congenital limb issues
Amputations
Leg length discrepancy
Short stature
Muscular dystrophy
Parkinson's disease
Multiple sclerosis
Motor dyspraxia
Limited range of motion
Balance issues
Post stroke
Blind or visual impairment
Intellectual disability
Cognitive impairment
Developmental disability
Individuals may ambulate independently or use assistive devices or wheelchairs. Friends and family are welcome to join in on the fun.
Kayaks must be reserved each week using the TeamSnap app. Please contact us if you need assistance.
What if I do not think I can get in or out of the kayak?
Not to worry. We have adaptive equipment that allows you to transfer into the kayak on stable ground. Simply sit down on the transfer station bench, swing your feet in, and lower yourself down. We can assist with your legs if needed. Wheelchair users do a slide transfer onto the transfer station bench.  If needed, we have a lift system to help get you in and out.
What if I can not paddle for very long?
Do not worry. That is the beauty of a tandem kayak. You can take a break while your partner continues to paddle. We would be happy to take you out for a ride and enjoy being on the water, even if you do not wish to paddle.
Is kayaking difficult to learn?
Kayaking is easy to pick up. It is a very gentle motion. We have mentors who will take you out in a tandem (double) kayak to teach you the basics. You will be surprised how fast you become an expert at paddling and steering your kayak.
Do I need to bring a life jacket?
The STAR Center, in conjunction with n.a.s.a., provides all equipment for our kayaking program including equipment, safety gear, and great coaches.
How do blind and visually impaired individuals participate in adaptive kayaking?
Individuals who have a visual impairment can kayak in a tandem kayak or a single kayak. When in a single kayak there is a mentor that serves as a guide, giving auditory cues.
Safety
Safety is of upmost importance. We will cancel for severe weather/lightening.
Lake Neshonoc is a calm shallow lake. There is little power boat traffic, current, or wakes which makes it a great place for kayaking.
The kayaks are very stable with outriggers. In the unlikely event of a kayak tipping, everyone should be comfortable in water and be able to float on their back.
All participants should be able to protect their airway when in water.
Everyone must wear a life vest.
If in a single kayak, the participant should be able to follow simple directions.
If it is your first time out, and you have questions about your kayaking skills, please sign up for a tandem kayak.
Adaptive equipment
All can participate in adaptive kayaking. With our adaptive equipment we can accommodate a variety of different challenges and ability levels.
Our specially designed kayaks offer
Special design to prevent entrapment
Specialized adjustable seating with truck supports
Outriggers for added stability
Ultra light paddles
Specialized seats to prevent sheer and pressure sores
Specialized hand grips
Paddle pivot supports
Air cushions to support feet and legs
Larger opening to ease loading and unloading
Charriot Transfer System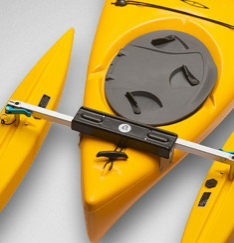 Specialized seating system
The specialized seating system can offer side hip, back, or trunk support for added stability. Use the standard seat or use each of the stability adaptations. STAR offers what you need to be successful.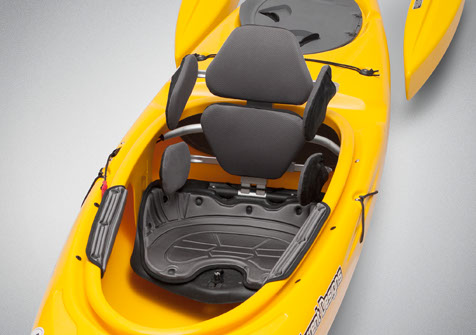 Assistive hand grips
Assistive hand grips allow those, who have challenges to grip strength, the ability to easily grasp the kayak paddle.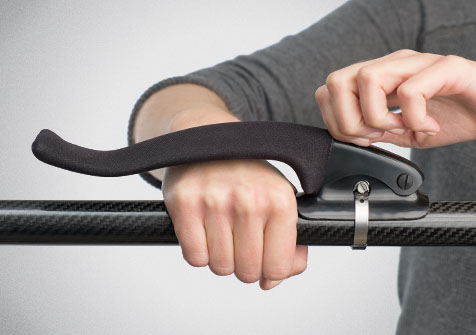 Paddle pivot
The purpose of the paddle pivot is to hold the weight of the kayak paddle. It allows individuals with shoulder weakness to concentrate on moving the paddle, instead of holding the weight. The paddle pivot also allows individuals, with the use of only one arm, the ability to kayak.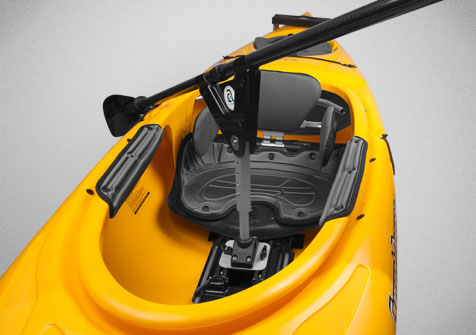 Wrist adaptor
The wrist adaptor allows those who have absence of a hand, no hand, or limited use of the hand (such as spinal cord injuries) the ability to hold the kayak paddle and yet release the paddle in an emergency.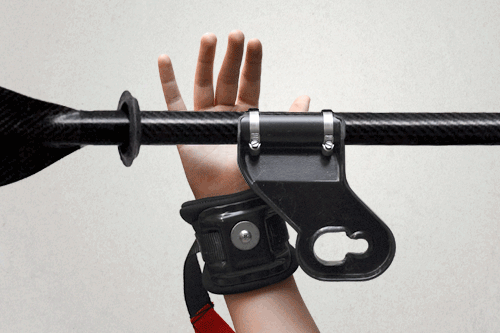 "Happy feet"
"Happy feet" air cushions pad areas from undo pressure, contractures, or insensate skin. They are also used to help balance individuals in their kayak.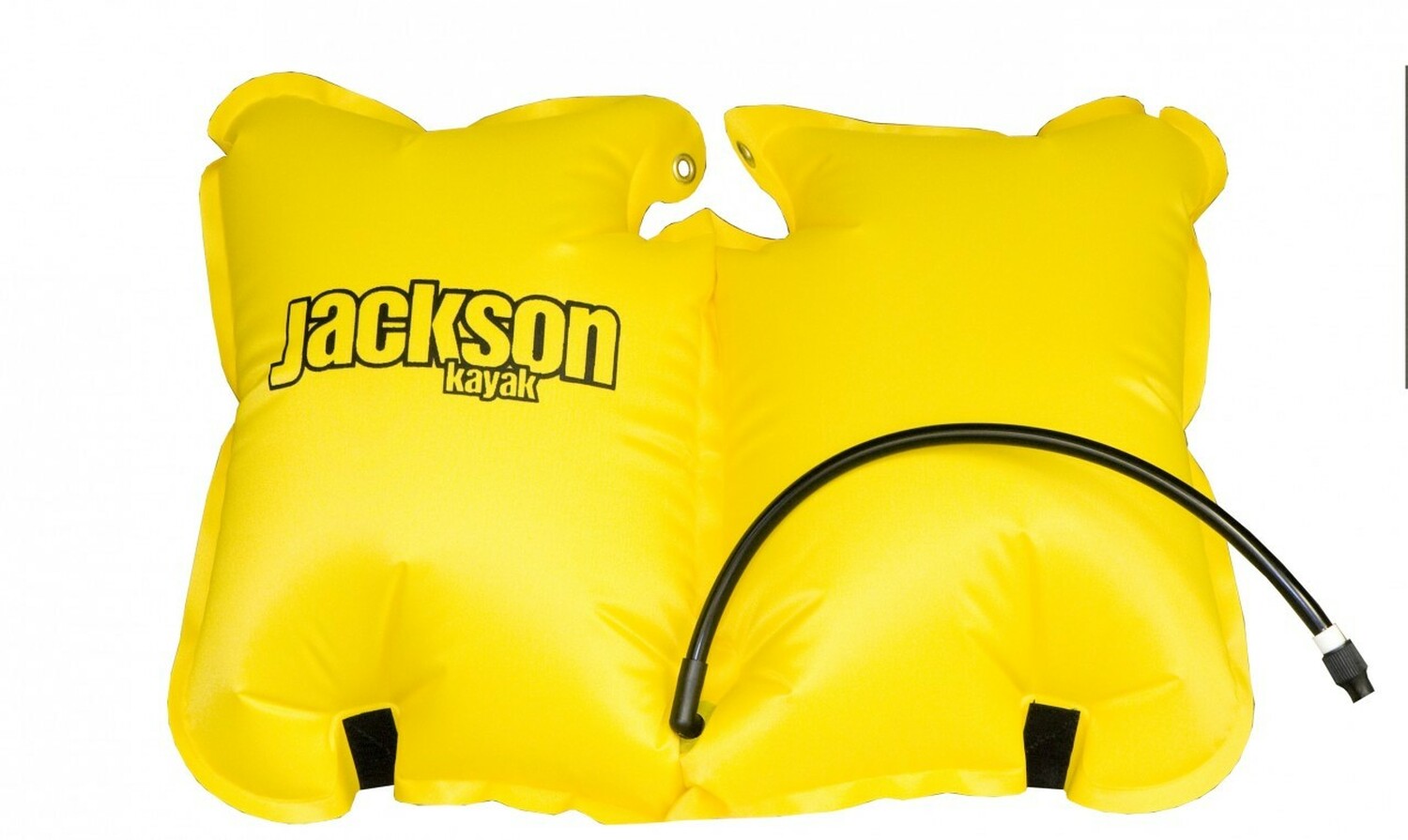 "Sweet cheeks"
"Sweet cheeks" conform to your buttocks. They increase stability, prevent pressure sores, and sheer in individuals who are insensate.